Arcadeias is an Editor on the

.
If you have any suggestions, comments or messages for this editor feel free
to leave them a message on their talk and they'll get back to you as soon as they can.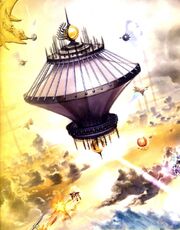 Did you know...
...that Alcadeias (jap.: Arukadiasu) comes from Arcadia, a mythical land of natural splendor and harmony, deprived of pride and avarice. The arcadian purety was the highest virtue of the Light civilization. Unattainable among clouds and skies, its capital rejoiced peace, far from world's corruption. Staring the fallen kingdoms, many wondered: "how can I protect something so perfect... without evil"? Broken between preservation of ideals and devoir of succor, the holy Light awaited a new dawn. Finally, the salvation began.
Light civilization at a glance
Project clean-up
Might not need some categories
All about destruction