Twinpactification
ツインパクト化 (Tsuinpakuto-ka)
DM-Wiki:
Article
Twinpactification is a term for cards that have received a Complete Upgrade version as a Twinpact.
Details
Many of these are older cards since the beginning of the game, including the Beginner's Block. Cards that were formally not practical for standalone use can be turned into powerful cards by becoming a Twinpact and being more versatile in more situations than before.
Original card
6
Holy Awe
Light / Spell

---

Shield trigger
■ Tap all your opponent's creatures.

Twinpact
6 + 6
Uisu, Dragon Armored's Investigation / Holy Spark
Light / Creature + Spell
Dragon Guild / Metallica

7500
---
​

Blocker
■ Double breaker
■ When you put this creature into the battle zone or whenever you cast a spell that has "Spark" in its name, your opponent's creatures don't untap until the start of your next turn.
---

Shield trigger
■ Tap all your opponent's creatures.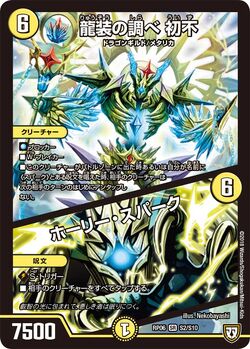 In some cases, previously practical cards may receive a Twinpact version.

Trivia card

s (often seen as jokes) may receive a Twinpact version.
It is also possible that both sides of the Twinpact cards are each a former card.
Even if the card has a twinpact version, the original card isn't entirely useless. There are small disadvantages incurred by being a Twinpact card.
Cards that become a Twinpact are treated as a different card than their original. This allows you put up to 8 copies of the card into your deck as well as avoiding cards such as The Grave of Angels and Demons.
List of Twinpactication cards
Light
Water
Darkness
Fire
Nature
List of other Twinpact cards
Some Twinpact cards are upgraded versions of previous released cards, but have changed the name of the existing cards.
Light
Water
Darkness
Fire
Nature
Community content is available under
CC-BY-SA
unless otherwise noted.