Team Kirifuda is a race of creature in the Fire and Nature civilizations.
Details
This race has an associated keyword, Kirifudash.
It is paired with Jokers, and can appear on spells as a subtype.
It is used by Joe Kirifuda.
Support
See also: Support for Jokers
Supporting
Card:
Ability:

Momoking Revolution, Jonetsu Hyakupar

■ Each of your Team Kirifuda in your hand gets "Kirifudash ".

Momomosumomomo Dash

■ This turn, the next Team Kirifuda you summon may cost up to 5 less. It can't cost 0 or less.

Superdachi Canbello Revo

■ Your Team Kirifuda cost up to 1 less to summon. They can't cost 0 or less.

■ Kirifuda Revolution: During the turn you put this creature into the battle zone with the "Kirifudash" ability, whenever your creature's attack, untap all your Team Kirifuda.

Superdachi Monkid Revo

■ When you put this creature into the battle zone, look at the top 3 cards of your deck. You may put a Team Kirifuda from among them into your mana zone tapped. Put the rest on the bottom of your deck in any order.
Example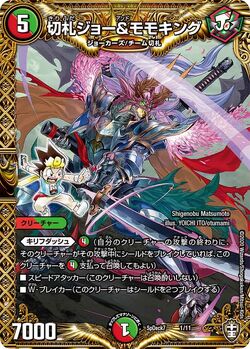 Races shared between the Civilizations
Community content is available under
CC-BY-SA
unless otherwise noted.