Splash Queen is a race of creature in the Water Civilization.
Nomenclature
Their Evolution Creatures have a military rank followed by "Queen" as their name.
Many Splash Queens' names feature references to alcoholic drinks, mainly cocktails.
Story
They resemble woman-like creatures with a jellyfish-like appearance. Note that just like Hedrians they have no definite gender.
Gameplay
Other Splash Queen races include;
Support
Supporting
Cards that support Splash Queens
| Support Card: | Card Effect: |
| --- | --- |
| Malibu Rickey | ■ Whenever you put a Splash Queen into the battle zone, you may draw a card. |
Supported
Cards supported by Splash Queens
| Supported Card: | Card Effect: |
| --- | --- |
| Tenderness Esseki, Theater of D | ■ At the end of your turn, look at the top card of your deck. You may put it on the bottom of your deck. Then if you have a Splash Queen in the battle zone, draw a card. |
Evolution Creatures
Creatures that evolve from Splash Queens
Example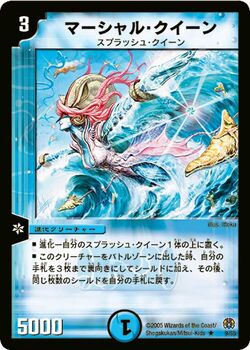 These categories also appear as a race.
These categories don't appear as a race.