Splash Queen is a race of creature in the Water Civilization.
Nomenclature
Their Evolution Creatures have a military rank followed by "Queen" as their name.
Many Splash Queens' names feature references to alcoholic drinks, mainly cocktails.
Story
They resemble woman-like creatures with a jellyfish-like appearance. Note that just like Hedrians they have no definite gender.
Support
Creatures that evolve from Splash Queens
Example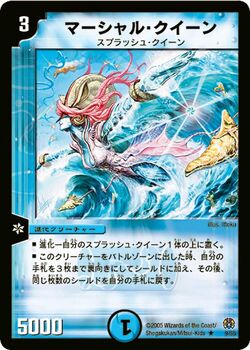 Community content is available under
CC-BY-SA
unless otherwise noted.