Snow Faerie Kaze is a race of Snow Faerie creature in the Nature Civilization.
Nomenclature
Non-evolution creatures include 雪精 (Yukisei, Snow Faerie) as a suffix.
Story
They are western-styled faeries that are commonly seen in fairy tales.
While being known as a type of Snow Faerie, There are more male specimens of this race and they usually resemble snowmen or other beings made of ice, such as golems, while others resemble beast folk.
Support
Snow Faerie Kaze are affected by all cards that affect Snow Faeries, but currently there are no evolution creatures that specify Snow Faerie Kaze.
See also: Support for Snow Faerie creatures
Example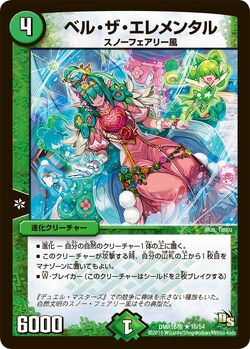 Community content is available under
CC-BY-SA
unless otherwise noted.