Release is a keyword shared among each of the 5 monocolored civilizations.
Details
It is a form of State Defined Effect.
It is a Substitution Effect that is only featured on the Awakened side of psychic creatures.
Whenever a Psychic Creature with Release would leave the battle zone, you may flip it to the smaller costing side instead. This enables the Psychic Creature to not be removed and Awaken again in the future.
Note that as continuous statuses affect psychic creatures even after the psychic creature has flipped, it does not save a creature from Decrease Power. Creatures with release may also be removed two times when something targets two creatures (such as Olzekia, General of Decapitation) as they treat the Awakened Psychic Creature and the original Psychic Creature to be two creatures. Finally, since it is a Destruction Substitution effect, it does not prevent cards such as Rumble Lecter, Terror Awakened from removing a creature.
Reminder Text
The latest reminder text for Release reads;
Release
(When this creature would leave the battle zone, flip this creature to its lower cost side instead.)
Example
14
Psychic Suva, the Awakened God
Darkness

/ Psychic Creature
Demon Command + Origin
12000
---
■ When this creature is awakened, destroy all other non-God creatures. Then, each player puts all non-God cards in their mana zone into their respective graveyards.
■ Triple breaker (This creature breaks 3 shields)
■ Release (When this creature would leave the battle zone, flip this creature to its lower cost side instead.)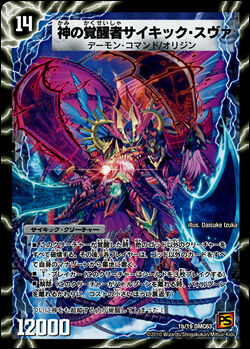 Cards with the Release ability
Effects and Abilities