Rainbow Command Dragon is a race of Command Dragon creature exclusive to multicolored creatures.
Details
Each Rainbow Command Dragon is multicolored creature with 2 or 3 civilizations.
2 Psychic Super Creatures with all 5 civilizations exist; Gaial Ore Dragon, the Vainglory and Gallows Hellish Dragon, Brink of Despair.
Support
Rainbow Command Dragons don't feature any support cards or Evolution creatures.
See also: Support for Command, Dragon and Command Dragon creatures
Example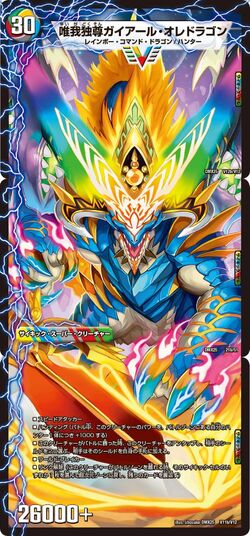 Color Names Command Dragons
Black Command Dragon ● Blue Command Dragon ● Green Command Dragon
Rainbow Command Dragon ● Red Command Dragon ● White Command Dragon
Dragon Saga Command Dragons


Angel Command Dragon ● Crystal Command Dragon
Demon Command Dragon ● Gaial Command Dragon ● Jurassic Command Dragon
World Command Dragon
Psychic Super Creature races
Devil Command Dragon ● King Command Dragon
Shining Command Dragon ● Sumo Wrestler Command Dragon
Revolution Command Dragons


Mega Command Dragon
Revolution Final Command Dragons

Guardian Command Dragon
Ten Kings Command Dragons


Gaia Command Dragon
Black Box Pack
Metal Command Dragon
Mega Armored Command Dragon
Color Names Command Dragons
Black Command Dragon ● Blue Command Dragon ● Green Command Dragon
Rainbow Command Dragon ● Red Command Dragon ● White Command Dragon
Dragon Saga Command Dragons


Angel Command Dragon ● Crystal Command Dragon
Demon Command Dragon ● Gaial Command Dragon ● Jurassic Command Dragon
World Command Dragon
Psychic Super Creature races
Devil Command Dragon ● King Command Dragon
Shining Command Dragon ● Sumo Wrestler Command Dragon
Revolution Command Dragons


Mega Command Dragon
Revolution Final Command Dragons

Guardian Command Dragon
Ten Kings Command Dragons


Gaia Command Dragon
Black Box Pack
Metal Command Dragon
Mega Armored Command Dragon