Poseidia Dragon is a race of Dragon creature in the Water Civilization.
Nomenclature
They tend to have 蒼神龍 (Sou Shin Ryū) meaning "Blue Divine Dragon" in their name.
Support
See also: Support for Dragon creatures
Creatures that evolve from Poseidia Dragons
Example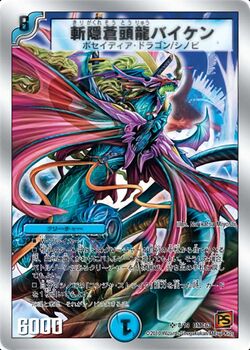 Trivia
Monocolored Dragon races
Armored Dragon ● Apollonia Dragon ● Earth Dragon
Poseidia Dragon ● Volcano Dragon ● Zombie Dragon
Multicolored-exclusive Dragon Races
Elder Dragon ● World Dragon
Revolution Final Dragon races

Angel Dragon ● Crystal Dragon ● Demon Dragon
Mega Dragon ● Jurassic Dragon
Outrage Dragon
Duel Masters (DMRP Block) Dragon races

Dragon Guild ● Jokers Dragon ● Master Dragon
Gacharange Series Dragon races


Dragon Code ● Dragons Zero
Master Dragon Z
Ten Kings Dragon races


Giant Dragon ● Hero Dragon ● Dynamite Dragon
Nitro Dragon ● Shinobi Dragon ● Dreammate Dragon
Berserker Dragon ● Mecha Del Sol Dragon ● Spirit Quartz Dragon
DMEX-13 Dragon races
Splash Queen Dragon ● Human Dragon ● Funky Knightmare Dragon
Sonic Command Dragon ● Snow Faerie Dragon ● Oracle Dragon ● Draguner Dragon
Infinite Dragon ● Infinite Master Dragon ● Zero Dragon
Community content is available under
CC-BY-SA
unless otherwise noted.