Master Dolszak is a race of Dolszak creature in the Darkness Civilization.
Details
It appears on Bangetsu 卍 Ga・Ryuzark 卍 / Bangokusatsu, 卍 De Szark 卍 and De Szark, Demon Phoenix.
It also appears on Do Raganzak 卍, Daibanzai as a subtype.
Except for De Szark, Demon Phoenix, they both have the Master Card rarity.
Gameplay
They both feature the Gate of Moonless Night keyword,
Story
They are creatures belonging to Ze-ro.
Support
Master Dolszak are affected by all cards that affect Dolszak but currently there are no cards or evolution creatures that specify Master Dolszak.
See also: Support for Dolszak creatures
Example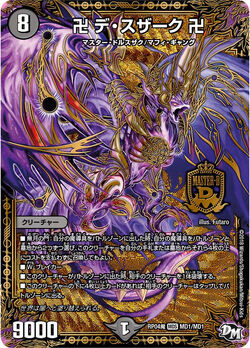 Community content is available under
CC-BY-SA
unless otherwise noted.