Kung Fu Soul is a soul found primarily on creatures in the Fire Civilization.
Details
The Kung Fu Soul is often paired with the Marshall Touch keyword.
In DM-37 Dark Emperor, it was paired with Wild Soul, while gaining the Solemn Duty keyword.
In DM-38 Angelic Wars, it was combined with Magic Soul, and abilities that triggered when the creatures are put into or leave the battle zone, which can combo from Marshall Touch returning creatures put into the battle zone by Chain.
Many of the creatures had a Chinese or oriental appearance. Many creatures were also based on martial artists or action actors such as Valtyson, Fierce Armor.
Example
3
Ponkichi, the Patched Pulverizer
Fire / Creature
Dreammate

2000
---

Shield trigger (When this creature is put into your hand from your shield zone, you may summon it immediately for no cost.)
■ Marshall Touch (When you put this creature into the battle zone, you may return one of your other creatures in the battle zone to your hand. If you do, use this creature's
ability.)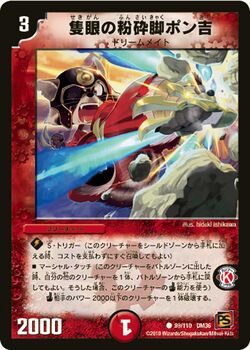 Support
See also: Support for Soul
Creatures that evolve from Kung Fu Soul creatures
Community content is available under
CC-BY-SA
unless otherwise noted.