Invader is a race of creature shared between the 5 monocolored civilizations.
Details
Instead of the usual civilization symbol, Invaders have an eagle with a globe on the eagle's back as a watermark behind their effect text. It is the same symbol that Duel Masters Land uses in the anime series.
According to the background story manga, they are brainwashed creatures, making them similar to Unknowns and Unnoises. However, the higher-ranking Invaders seem to have free will, as seen in their behavior in the background story.
The major invaders are of the Water, Fire and Nature civilization alignments, but later Light invaders had gained a role too.
Darkness, Fire and Nature creatures have designs and weapons that exceed the technology standards of other creatures of their respective civilizations such as Chainsaws, supersonic motorcycles and Bazookas, meaning that their technology level and intelligence surpasses regular creatures of their respective civilizations.
Later on, an advanced S-rank Invader Virus variant creates a new type of invader known as S-Rank Invaders in DMR-19 Forbidden Dokindam X.
Invader ZERO was also released in DMR-22 The World of Zero!! Blackout!! on the side of Dormageddon.
Nomenclature
All low-ranking invaders have 侵略者 (Shinryakusha, Invader) as a suffix.
High ranking evolution creatures have 超 (Cho, Super) in front of their suffix.
Legend Cards have [ADJECTIVE]侵略 (____ Invasion) as a suffix.
Other factions of Invaders in the various civilizations have specific nomenclature themes and paired races, as well as being used by a character in the Duel Masters Versus Revolution anime series.
Gameplay
Their evolution creatures mostly have the Invasion ability word.
They also sometimes have an ability that activates when the opponent has 2 or less shields.
Support
See also: Invasion
Supporting
Cards that support Invaders
| Support Card: | Card Effect: |
| --- | --- |
| Kinkong, Beast Army | ■ When you put this creature into the battle zone, for each of your creatures in the battle zone, you may put a nature Invader evolution creature from your mana zone on top of that creature tapped. |
| Ultimate Gate | ■ Shuffle your deck. Then, reveal the top card of your deck. If it's a light Invader creature that costs 9, you may put it into the battle zone. Otherwise, add it to your hand. |
| Warashibabe, Super Mirage | ■ When you put this creature into the battle zone, you may put one of your other creatures into your mana zone. If you do, reveal the top 3 cards of your deck. You may put a Mystery Totem or nature Invader from the revealed cards into the battle zone. Then put the rest on the bottom of your deck in any order. |
Anti-Invader Cards
Anti-Invader Cards
Support Card:
Card Effect:

Dogiragon Slash

■ Choose one of the following.

► Destroy 2 of your opponent's creatures that have "blocker".
► Destroy 2 of your opponent's creatures that has power 5000 or less.
► Destroy 2 of your opponent's Invaders.
Creatures that evolve from Invaders:
Example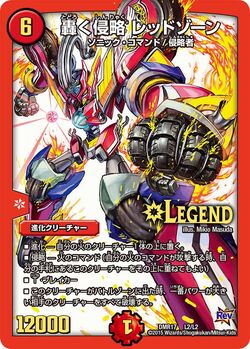 Trivia
They are the first races written in full kanji along with Revolutionary.
Notes
↑ These revolutionaries are Invader sleeper agents.
Races shared between the Civilizations
Community content is available under
CC-BY-SA
unless otherwise noted.