Holy Soul is a soul found primarily on creatures in the Light Civilization.
Details
The Holy Soul is often paired with the Holy Field keyword.
In DM-37 Dark Emperor, it was paired with Magic Soul while gaining the Freeze (and Double Freeze) keyword.
After DM-38 Angelic Wars, it was paired with Evil Soul, and cards that supported the graveyard appeared.
Creatures with Holy Soul often had illustrations and designs based on Buddhism and Hinduism, with colorful artwork. Many of their cardnames are also taken from Indian, Buddhist, or Hinduism sources.
Example
4
Banga, the Explorer
Light / Creature
Gladiator

3000
---
■ Holy Field (if you have the same number or more shields than your opponent, this creature has its
ability.)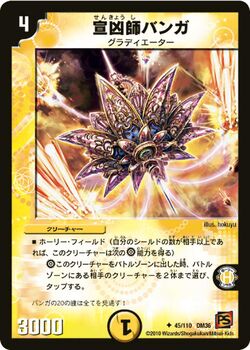 Cards with Holy Soul
Support
See also: Support for Soul
Creatures that evolve from Holy Soul creatures
Community content is available under
CC-BY-SA
unless otherwise noted.