Gaia Command
ガイア・コマンド
Phonetic:
Gaia Komando
Civilization(s):
Nature
Race Category:
Command
DM-Wiki:
Article
Category:
Gaia Command
Gaia Command is a race of Command creature in the Nature Civilization.
Nomenclature
Most of them have "Earth" in their name.
Support
Gaia Commands don't feature any support cards or Evolution creatures.
See also: Support for Command creatures
Example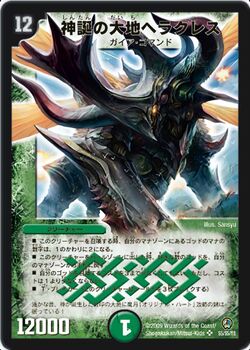 Community content is available under
CC-BY-SA
unless otherwise noted.