Forbidden is a race.
Details
Formally creatures associated with the Forbidden theme or category and supertype were creatures with No Race.
This has been discontinued with the introduction of Dokindam X GS, The Legendary Forbidden in DMSP-02 as well as Dokindante Twenty Two, Forbidden Time Hybrid King in DMRP-18.
Support
There are no support cards or evolution creatures for the Forbidden race.
Example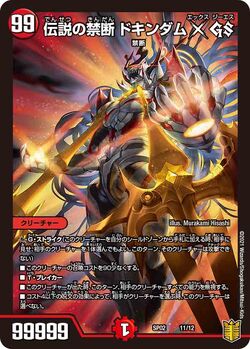 Community content is available under
CC-BY-SA
unless otherwise noted.