Flame Monster is a race of Monster creature in the Fire Civilization.
Nomenclature
Flame Monsters usually having the word "Crimson" (グレン, Guren) in their name, or "Lord" (オー, ō) at the end of it.
Details
The race is named after Flame Agon, God of Flames, a God creature from the DM-27 Perfect Heaven set.
They resemble burning animals.
Support
Flame Monsters don't feature any support cards or Evolution creatures
See also: Support for Monster creatures
Example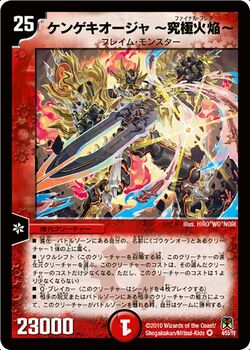 Community content is available under
CC-BY-SA
unless otherwise noted.