Flame Commands is a race of Command creature in the Fire Civilization.
Gameplay
Many of its creatures feature Double Cross (XX) in their name. Most of them also feature Armored Dragon as an additional race.
Support
See also: Support for Command creatures
Supporting
Cards that support Flame Commands
| Support Creature: | Card Effect: |
| --- | --- |
| Daidara, Izanai's Explosion | ■ Kourin—At the end of your turn, if this creature is tapped, search your deck. You may put a Flame Command that costs 7 or less from among it into the battle zone. Then shuffle your deck. |
| Eagle Aini, the Explosive Wing | ■ Each of your Flame Commands in the battle zone get "speed attacker". |
| Pitch Aini | Untap one of your Flame Commands in the battle zone. |
Supported
Cards supported by Flame Commands
Example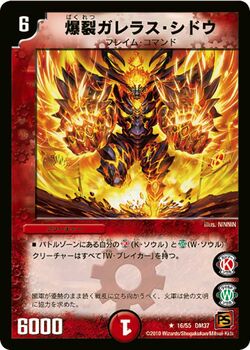 Community content is available under
CC-BY-SA
unless otherwise noted.