Evil Soul is a soul found primarily on creatures in the Darkness Civilization.
Details
The Evil Soul is often paired with the Soul Recall keyword, as well as the Hell's Soul Recall and Annihilating Soul Recall variant.
In DM-38 Angelic Wars, it was paired with Holy Soul, and cards that supported the graveyard appeared.
Creatures with Evil Soul had artworks based on fallen angels. Many illustrations feature black or purple ringed objects.
Example
Fuuma Beelzebub
Darkness / Creature /

4


Grand Devil /

3000
---
■ Soul Recall 3 (Whenever this creature attacks, you may put 3 cards in your graveyard on the bottom of your deck in any order. If you do, you may use this creature's
ability.)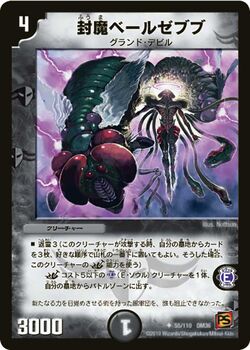 Support
See also: Support for Soul
Creatures that evolve from Evil Soul creatures
Community content is available under
CC-BY-SA
unless otherwise noted.