Elder Dragon is a race of Dragon creature shared between the Water, Darkness and Fire civilizations.
Story
In Magic: The Gathering, they were a race of highly powerful ancient dragons who were born in Dominaria and were nearly wiped out in the ancient war at the start of the timeline. They would later become the ancestors of all dragons and wurms.
Gameplay
It is only featured on a single multicolored card.
Support
Elder Dragons don't feature any support cards or evolution creatures.
See also: Support for Dragon creatures
Example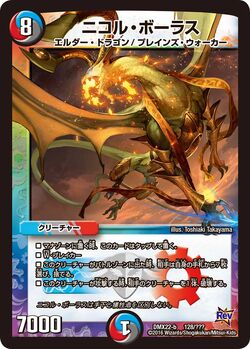 Trivia