Man to Man Final Battle! Katta VS Kojiro!
is the 14th episode of the
Versus Revolution Final
season of the
Duel Masters Anime
.
Synopsis
突如、るるをさらったコジローは勝太に勝負を迫る。コジローの目的は!?コジローは本当に勝太たちの敵になってしまったのか・・・!?一方、ボスカツは自分の力不足を感じ、ひそかに特訓に励んでいた。ボスとして、いやハムカツ団としてパワーアップできるのか?そんな中、デュエマにかける勝太とコジローの熱い想いがぶつかり合う。
Major Events
Bosskatsu evolves and became Bosskatsu Buster, No.2 Man.
Kojiro gave hints to Katta that Basara might not be human any longer, which was later proven to be partly true as Dokindam X causes Basara's arm to mutate even further. Also, cross shape pupils began to appear on his eyes like the trailer and manga.
Card Combo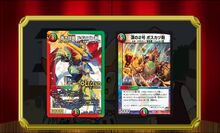 Trivia
Katta almost breaks his finger during his desperate draw is similar to the situation in episode 14 of VS. However, Katta won against Kojiro this time.
A reference of Kyoshiro Kokujo was made when Kojiro uses Dorballom, Lord of Demons, which was Kokujo's main trump card in the previous seasons. Coincidentally, it was used against Katta who was Shobu's younger brother, with Kokujo being Shobu's main rival in the Darkness Civilization.
It should be noted that Katta hae 4 copies of Dragon Emperor's Emblem on his hand when he uses its Revolution 0 Trigger effect.
Community content is available under
CC-BY-SA
unless otherwise noted.