Final Heroine! Utsubomi Kazura Appears! is the 12th episode of the Versus Revolution Final season of the Duel Masters Anime.
Synopsis
かつて勝太が恋心をいだいたデュエマウスの中の女の子。なんとあの女の子が勝太たちの中学校に転入してきた。名前はうつぼみかづら!あっという間に全男子生徒のハートをキャッチしたかづらだったが、なぜか勝太にぐいぐいアプローチしてくる。面白くないるるの怒りが頂点に達し、ついに直接対決!ヒロインの座をかけた女の闘いの勝敗は・・・!?
Major Events
Utsubomi Kazura was transferred to the same school Katta was in.
Acme makes his debut as Kazura's creature partner.
Doremi partners up with Lulu in the duel.
Both Lulu and Kazura's rivalry starts to heat up.
Featured Card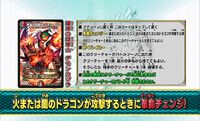 Trivia
Currently, the official Corocoro YouTube Channel have the rights to release the episodes online instead of Shopro. This results in users outside Japan being unable to watch the episodes and have to rely on other online video sources or through the use of proxies to watch.
When Lucifer researches about Kazura, her English name was shown in the data sheet. Her age, birthday and address was unknown.
Yumiko Kobayashi, the voice actor of Katta and young Shobu celebrates her birthday a day before the episode broadcast. In her official Twitter account, she posted an image of her birthday cake, which had an image of Katta and receives a T-shirt with 'I love curry bread' print as a birthday present.
Community content is available under
CC-BY-SA
unless otherwise noted.