Duel Hero Atsuto
デュエル ヒーロー アツト

Civilization(s)
Water Darkness
Voice Actor
東谷篤門


Atsuto Higashitani
Duel Hero Atsuto was first introduced in the Duel Masters Victory season of the Duel Masters anime.
Details
He also appears on the card, Atsuto, Duel Hero Strategist in DMX-07 Battle Royale! Heroes Victory Booster: Roar of the Wild Battle.
Both he and Yuu sang several opening and ending songs for the anime season.
Duel Masters Victory (My ビクトリー!)
Duel Masters Victory V (鬼最強ビクトリー)
TV
Atsuto and Duel Hero Yuu are the TV hosts for Duel Masters Dash TV.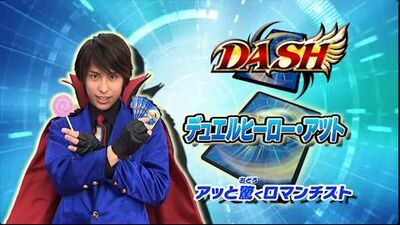 He and Yuu will not longer host this show in April 18, 2015.
Anime
Atsuto and Yuu are the hosts and commentators for the Duel Carnival Tournament.Both of them sang a song together before they start the qualifiers.They also reveals the prize card of the tournament.
After Onsen had escaped from the Hospital, he had to duel alongside Yuu against Rikishi and Shachihoko in order to attempt to get information out of them about the whereabouts of Onsen .However, despite their good dueling skills due to Shachihoko and Rikishi's illegal exchange of cards during the battle,they had lost and were unconscious for a while and were trapped in the room were Rikishi and Shachihoko were until Mimi saved them.Later the three traveled around trying to find Onsen and the Others.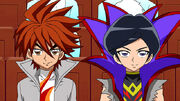 Yuu and Atsuto were Duel Masters icons and were involved in Duel Masters campaigns and tournaments.He was defeated by Kojiro during the Lucifer World Cup.Both of them are present in the New Year Countdown exhibition match.
Manga
Atsuto and Yuu are the protagonists of the Duel Hero: DASH series.
In this manga, he dueled against Yuu and was defeated.
Deck
Duel Masters Victory
Decklist

Water Civilization:

Darkness Civilization:
Psychic Creatures:
Manga
He used DMD-02 Start Dash Deck: Water & Darkness.