Dreammate

Kanji:

ドリームメイト

Introduced in set:
Dreammate is a race of creature shared between the Fire and Nature civilizations.
Gameplay
This race is introduced as part of the cycle of races during the Phoenix Saga.
They are supported by Vehicle Bees.
Many Dreammate evolution creatures feature "Amazing Artiste" in their name.
Support
Creatures that evolve from Dreammates
Asteroid Gaia, Ground Comet (Vortex Evolution-2 of your Dreammates, Vehicle Bees, and/or Earth Dragons.)
Great Writer Chudersen (When an opponent casts a Spell, add a Dreammate from your deck to your hand)
Kenji Panda Nelra, Tyrannical Shogun (When attacking, reveal the top card of your deck. If it is a non-evolution Dreammate or Vehicle Bee, you may summon it)
Legendary Sante Gat De Paco (When you summon Dreammates, they cost 1 less and you may draw a card)
Supernova Jupiter King Empire (Evolution GV - Put on 3 of your Dreammates, Arc Seraphims, and/or Wild Veggies)
Supernova Bigbang Anastathis (Evolution GV—3 of Great Mecha King, Dreammate, and/or Arc Seraphim)
Xenon Da Vinci, Master of Space (Evolution—Put on one of your Giants, Dreammates, or Origins.
Example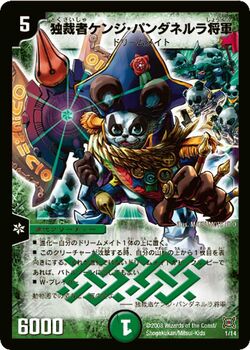 Races shared between the Civilizations
Community content is available under
CC-BY-SA
unless otherwise noted.