Draguner is a race of creature shared between each of the 5 monocolored civilizations.
Details
Each of the creatures with the Draguner race bring out a Dragheart from your hyperspatial zone into the battle zone.
There is a Draguner that does not put Draghearts into the battle zone; Gaiglen, Violent Dragon Incident. This is because that it is based on Glenmalt, Dragon Edge, a Draguner who has been possessed by Gaiginga, Passionate Star Dragon.
All Draguners feature no borders on their card frame.
Story
Only Draguners can contain the massive power of Draghearts. Any non-draguner creature who attempts to wield a dragheart will evaporate immediately according to the flavor text of Gambalander, Dragon Edge.
Unlike other cross civilization races, the Draguners of different civilizations are rivals of each other.
Support
Supporting
Cards that support Draguners
Supported
Cards supported by Draguners
List of Draguners
Example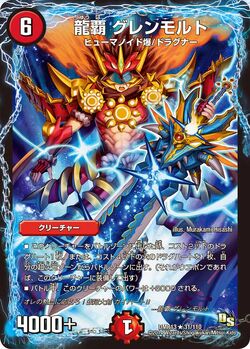 Races shared between the Civilizations
Community content is available under
CC-BY-SA
unless otherwise noted.