Dolszak is a race of creature in Water and Darkness civilizations.
Details
While it initially featured exclusively on Darkness creatures, it later also appeared in the Water Civilization in DMBD-08.
It also appears as a subtype on spells.
Gameplay
It differs from Master Dolszak, as the cards don't have the Master Card rarity.
Other Dolszak races include;
Support
Supporting
Cards that support Dolszaks
| Support Card: | Card Effect: |
| --- | --- |
| Ban Night Carnival | ■ You may look at your deck, your hand, or your graveyard. You may choose one of your Dolszak creatures and up to 4 Magic Tools. If you do, put that Dolszak into the battle zone on top of those Magic Tools. If you looked at your deck in this way, shuffle it. |
| Gekabankai Ga Ryumizu 卍 | ■ You may summon up to 4 Dolszaks from your hand or graveyard for no cost. |
| 卍 Grand Zero 卍 | ■ Ignore any effects that prevent you from casting Magic Tool or Dolszak spells. |
Example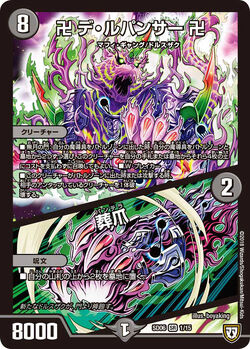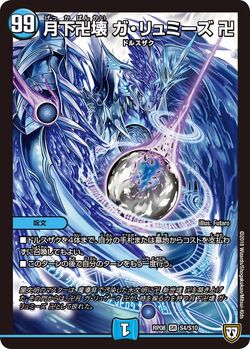 Races shared between the Civilizations
These categories also appear as a race.
These categories don't appear as a race.