| | | |
| --- | --- | --- |
| " | Dispectors are a combination of powerful creatures from the past! The power of the trump card-class creatures will combine to become the strongest, greatest and worst enemies of all time, and stand in front of Momoking! | " |
Dispector is a race shared between each of the 5 civilizations.
Details
Many creatures of this race are based on a combination of formerly released creatures throughout the games previous 20-year history up to 2021.
In the anime series of Duel Masters King!, they are used by Jendle, the main antagonist and his group of "Gattles".
Alongside with Distas, they are enemies of the RexStars race.
Gameplay
They have a unique keyword, EX Life.
EX Life
(As you put this creature, shieldify the top card of your deck. When this creature would leave, put that shield into your graveyard instead.)
They have a Support Race known as Distas, with this race featuring the Dispector-specific Cost Reduction keyword; Sasagale.
Sasagale #
(When you summon a Dispector, you may reduce its cost by #. If you do, destroy this creature. That Dispector can't cost less than 0.)
Many seem to be part of a 3-civilization multicolored combination.
Currently the race only occurs on creatures that have a cost of 6 or more.
Nomenclature
Depending on the 3 civilization combination they belong to, they each feature different Kanji in their name, relating to how the creatures are combined with each other.
This occurs even on cards that are don't have 3 civilizations.
Like the majority of other creatures in the The Rise of Kings block, they are named after previously released creatures.
Support
Dispectors don't feature any support cards or evolution creatures. Dispector are supported by the Sasagale keyword exclusively found on creatures that have the Distas race.
Example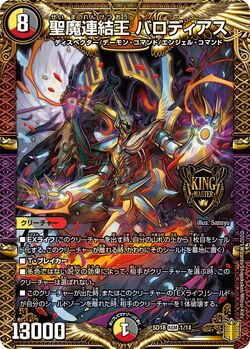 Trivia
Races shared between the Civilizations
Community content is available under
CC-BY-SA
unless otherwise noted.