Roblox: DeepWoken - The Loop
Play Sound
Deck Builder DX: Alien Edition is the 3rd DMX pack in the OCG.
Details
This set was designed for building decks based on the Alien race of creatures.
This set and its counterpart, DMX-02, debuted the modern Duel Masters cardface design, which featured among other things: cleaner-reading power, mana, and manacost numbers; manacost color indicators for all cards; and distinct paneling.
It contains:
Contents
Psychic Creatures
Gallery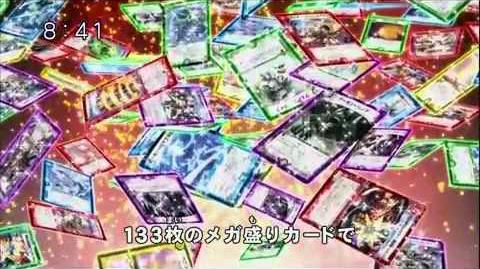 Episode 1


DMX-01 King of Duel Road: Strong 7
DMX-02 Deck Builder DX: Hunter Edition ● DMX-03 Deck Builder DX: Alien Edition
DMX-04 Full Foil Pack: Revival Hero - The Hunter ● DMX-05 Full Foil Pack: Revival Hero - The Alien
DMX-06 Battle Royale! Heroes Victory Booster: Burning Gutsy Epic Battle
DMX-07 Battle Royale! Heroes Victory Booster: Roar of the Wild Battle

Episode 2


DMX-08 Burn up to the Max! BEST Competition
DMX-09 Deck Builder Ogre Deluxe: Gamba! Katta Saga ● DMX-10 Deck Builder Ogre Deluxe: Kirari! Leo Saga
DMX-11 Great Decisive Battle: Allstar 12 ● DMX-12 Black Box Pack ● DMX-13 White Zenith Pack

Episode 3


DMX-14 Strongest Strategy: Perfect 12 ● DMX-15 Full Foil VS Pack: Virtueless Royal

Dragon Saga


DMX-16 The Great Royal Strategies: Fantasista 12
DMX-17 Dragon Souls Festival
DMX-18 Triple Shifter! Dragsolution Allstars
DMX-19 Super Rare 100% Pack

Revolution


DMX-20 Deck Ultimate Perfection!! Due-Max 160 ~Revolution & Invasion~
DMX-21 Masters Chronicle Pack: Comic of Heroes
DMX-22 Super Black Box Pack
Revolution Final

DMX-23 Mystery Teach!! Deck Level MAX Pack ● DMX-24 Shine! Duedemy Prize Pack
DMX-25 Final Memorial Pack ~E1, E2, E3 edition~
DMX-26 Final Memorial Pack ~DS, Rev, RevF edition~