DMSD-14 King Master Start Deck: Joe's Kirifudash
キングマスタースタートデッキ 
「ジョーのキリフダッシュ」

Translation:
King Master Start Deck
Joe's Kirifudash
Gallery:
DMSD-14 Card Set Gallery
Rulings:
Set FAQ
Release Date:
March 14, 2020
Civilization(s):
Fire / Nature
Main Race(s):
Team Kirifuda, Hero Dragon
Next Set:
DMSD-15 King Master Start Deck: Onifuda's Onitime
Previous Set:
DMSD-13 Super GR Mega Start Deck: Joe's Super Jokers Tornado
Block:
Ten Kings
King Master Start Deck: Joe's Kirifudash is the 14th DMSD set in the OCG.
Details
This deck is based on the Team Kirifuda race, used by Joe Kirifuda.
It is the first DMSD set to be full foil and have a King Master Card included.
Keywords
This set introduces the following keywords.

"N/CIVILIZATION" (At the end of any of your creatures attacks, if that creature breaks a shield while attacking, you may pay "N/CIVILIZATION" to summon this creature.)
Contents
(Cards marked with a ☆ are exclusive to this deck.)
Contents sorted by Civilizations

Fire Civilization: 14

Nature Civilization: 14
Gallery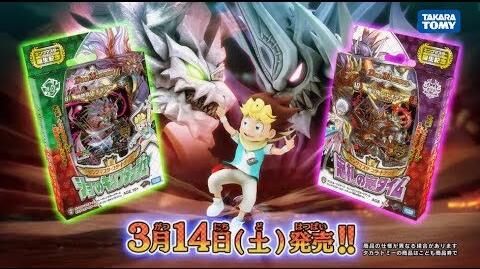 Community content is available under
CC-BY-SA
unless otherwise noted.