All So Truly B・A・D Labyrinth!! is the 2nd DMRP booster pack in the OCG.
Details
Set Breakdown:
This set features 105 cards, including;

2 Master Cards (with 3 alternate Secret Rare artworks each)
10 Super Rares
10 Very Rares
18 Rares
28 Uncommons
37 Commons

This set reintroduces the Zero Civilization and a new field: DG Field.
Ov Sidia is seen in the packaging of this booster pack. Unlike in Revolution and Revolution Final where the user of the flagship card is printed on the booster pack, only Joe Kirifuda appears in the booster pack similar to pre-DMR packs.
This set introduces further Metallica and Beat Jockey support, in comparison to focus on Jokers from the previous set.
Keywords
This set introduces the following keywords;
Double Sympathy: "CONDITION" (When you summon this creature, you may pay 2 less for each of your "CONDITION" in the battle zone. It can't cost 0 or less..)
Master Bad Action Dynamite
(You may reduce this creatures summon cost by 2, and an additional 2 less to summon for each of your other fire creatures you summoned this turn. If you do, destroy one of your creatures at the end of the turn. This creature can't cost 0 or less.)
Master Labyrinth: Whenever this creature attacks, if you have more shields or creatures than your opponent, you may add your hand to your shields face down.
Contents
Neo Creatures that give Attack Trigger
(A cycle of Neo Creatures that give Neo Creatures [including themselves] an ability that triggers whenever they attack.)
Dragon Guild
(A cycle of creatures that have the Dragon Guild race and are based on an older Dragon card.)
Super Shield Trigger
(A cycle of spells that have the Super Shield Trigger keyword.)
Neo Evolution Creatures gain ability
(A cycle of Neo Creatures that have additional abilities if they are Neo Evolution Creatures.)
Gallery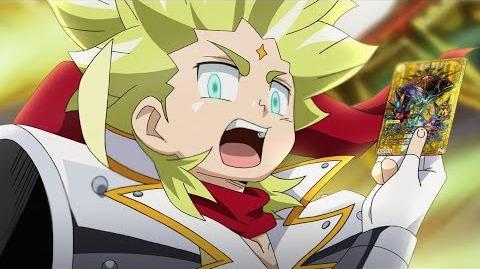 Trivia
This is the first set since DMR-20 that does not have at least one card with an Alternate Win Condition.
This card features multiple cards with names and artwork resembling cards through Duel Masters history. These can be seen here.
Duel Masters

DMRP-01 Here Come the Jokers!!
DMRP-02 All So Truly B・A・D Labyrinth!!
DMRP-03 Feeling Joejoe Meraventure!!
DMRP-04裁 The Rise of Master Dragon!! ~Judgment for Justice~
DMRP-04魔 The Rise of Master Dolszak!! ~Demon Phoenix of Moonless Night~

Twinpact Series


DMRP-05 Gokai!! Joragon Go Fight!!
DMRP-06 Strike Back Galaxy 卍・Inferno・Annihilation!!
DMRP-07 Ghira Ghira Ghiramessiah and Finaling QX!!
DMRP-08 The Showdown! Baraghiara!! Invincible OraOra Ringfinity ∞

Gacharange Series


DMRP-09 New Zone Was Born! Super GR and Orega Ora!!
DMRP-10 Blue C.A.P and Black DaiBanZai
DMRP-11 Zero Birth! Maji's Jornado 1059!!
DMRP-12 SuperSuperSuper Top! The Awakening Joghiragon vs. Zeeron Bang-Tan!

Ten Kings


DMRP-13 Kirifuda x Onifuda King Wars!!!
DMRP-14 Explosive Dragon x Explosive Rising Dynabolt!!!
DMRP-15 Phantom Dragon x Swift Attack Genmu Emperor!!!
DMRP-16 The Hundred Kings x Evil King Oni Revolution!!!

The Rise of Kings


DMRP-17 RexStars and Dispector
DMRP-18 Miracle Forbidden
DMRP-19 Eternal Premiums