Forbidden Dokindam X is the 19th DMR booster pack in the OCG.
Details
Set Breakdown:
This set features 99 cards, including:

1 Forbidden Legend Card
1 Secret Forbidden Legend Card
2 Legend Cards
6 Secret Legend Cards
9 Super Rares
10 Very Rares
14 Rares
26 Uncommons
37 Commons

X Legend Cards have the same packaging rate as Super Rares. A Secret X Legend appears once every few cartons.
The Trump Cards advertised in various bonus cards in this set include;
Click to view
Trump
Character
Recommended partners
Bolshack Dogiragon
Katta
Flaming Borucchi
Mega Shock Dragon
Dokindam X, The Legendary Forbidden
Basara
Trooper, Forbidden U
Marmo, Forbidden C
Ultra Star, Revolution Holy Dragon
Duewanko
Kaiserbarra, War Dragon Elemental
Rose Da Capo, Revolution Dragon Elemental
Kill the Live, Revolution Demon Dragon
Kojiro
The Live, Dark Armor
Gabute, Revolution Dragon
Deadzone, S-Rank Zombie
Zon-san
Dead Dollar, S-Rank Zombie
Dead, Zombie
Adamski, S-Rank Space
Chuu-yan
Rocket Man, Space
Station, Space
Sanmadd, S-Rank Tribe
Gen-chan
Trio, Tribe
Sanmoth, Tribe
G.O.D., Extreme Invasion
Chuujiro
Gio, Super Seven Extremes
Ultimate Gate
Completely Unidentified
Duema Land President
Landhead, Invader
Scale of Gold and Binding
Keywords
This set introduces the following keywords;
S-Rank Invasion「NAME」—RACE (When one of your RACE attack, you may put this creature from your hand or ZONE onto it.)
Races
This set introduces the following races:
Card Types
Alternate Artwork cards
The Forbidden Legend has a secret version which is written in forbidden text.
Each Secret Legend Card has an SD(Chibi) Version, a Gold Version and a Gold SD(Chibi) Version.
Reprinted Cards
Contents
Agitate Trigger
(Each of these creatures have an Attack Trigger ability that occurs when your creatures attack for the first time in a turn.)
Scale
(Each of these spells are uncommon, have the "​

Shield Trigger" ability and 2 modal abilities.)
Invasion - Cost 3
(Each of these Invader evolution creatures that have an Invasion ability for creatures that cost 3 or more, and an ability that triggers after the creature attacks.
Shield Saver
(Each of these creatures have Shield Saver and require you to remove one of your shields from your shield zone [except for Di].)
Evolution Support
(Each of these creatures have an ability that triggers when an evolution creature is put on another of your creatures.)
Revolution 2
(Each of these cards have a "Revolution 2" ability.)
Gallery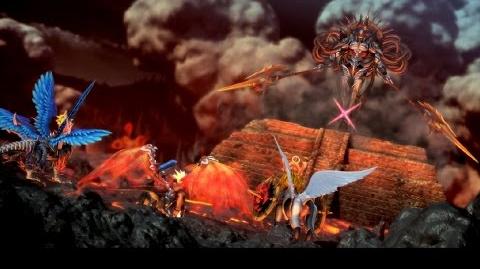 Trivia