Omega Climax is the 12th DMR booster pack in the OCG.
Details
Races
Keywords
This set features the following variations of existing keywords;
Climax Doron Go: When one of your fire exile creatures that costs 7 or more is destroyed, you may put this exile creature from your hand into the battle zone.
Mana Kourin—At the end of your turn, if this creature is tapped, you may put a non-evolution creature that costs "NUMBER" or less from your mana zone into the battle zone.
Ultra Doron Go: When this creature leaves the battle zone, you may put an exile creature that has "NAME" in its name from your hand into the battle zone.
Alternate Artwork cards
This set continues the Mode Change Card alternate art series, contributing the following cards:
Contents
Cycles
Double Chance spells
(Each of these spells have "Double Chance" in their name and allow you to use both abilities if you have an Exile creature in the battle zone.)
Go Straight creatures
(Each of these creatures have the

Shield Go ability and have "Go Straight" in their name.)
Gallery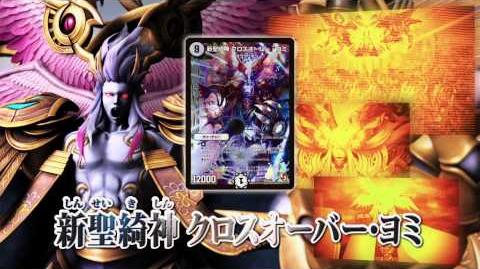 Community content is available under
CC-BY-SA
unless otherwise noted.