The God Kingdom is the 57th DMC pack in the OCG.
Details
It was released alongside The Samurai Legend as part of the Super Deck Saga series.
It is focused on the God Link keyword of Aku, Ultimate God and Zen, Transcendent God.
Mikado Kozuki is featured on the cover with Miraculous Snare, Dolgeza, Veteran of Hard Battle, Saga, the Almighty Creator, Zen, Transcendent God, Aku, Ultimate God, Shaman Totem and Earth Eternity Gate.
Contents

Light Civilization: 4

Water Civilization: 7

Darkness Civilization: 6

Nature Civilization: 10
Gallery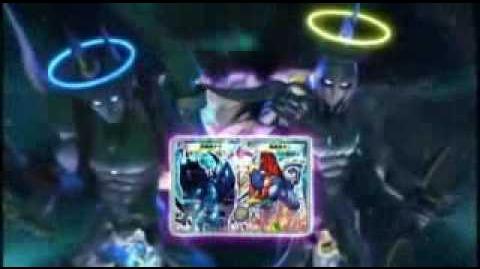 Trivia
At the back of the tutorial about how to play the deck as well as a large artwork composing of all the artworks of the cards that appear in the deck. Below the composed artwork reads the following texts:
You went through such hardship and struggle to reach to this peace.
Wipe out all the evil with omnipotent light!
Do not hesitate! Do not be afraid!
You are the genesis of the gods. You are eternal...

DMC-35 to DMC-67
Entry Deck 2010

DMC-59 Samurai Ambitious ● DMC-60 Eternal Death
Reprint

DMC-61 CoroCoro Dream Pack 4: Eternal Heaven
Super Deck Shock

DMC-62 Ultra NEX ● DMC-63 Lunatic God
Reprint

DMC-64 CoroCoro Legend 7: Dynamite Movie
Movie Deck Shock

DMC-65 The Movie Deck: Ultra Fire Spirits
Reprint

DMC-66 Duel Masters: Super Best
DMC-67 Dramatic Wars: Fire and Dragon
●
DMC-68 Dramatic Wars: Angel and Demon
Community content is available under
CC-BY-SA
unless otherwise noted.