Arcane: League of Legends - The Loop
Play Sound
Spectacle Nova is the 19th booster pack in the OCG.
Details
This set contains a total of 120 cards. It introduces many new creature races that are shared between civilizations and race support.
Supernova Venus la Saint Mother is featured on this pack's cover artwork.
This set has the first appearance of the Hybrid Race cycle of races, along with Deep Marine, Brave Spirit and Vehicle Bee which support said hybrid races.
Keywords
This set introduces the following keywords;
Cyclone
(This turn, if you summoned a creature immediately before casting this spell, put it into your hand instead of your graveyard.)
Dynamo
(Whenever another Dynamo attacks or is attacked, you may tap this creature. If you do, add this creature's power and abilities to that creature until the end of the turn.)
Galaxy Vortex evolution—Put on top of 3 specific creatures.
Meteorburn—Whenever this creature attacks, you may put a card under this creature into your graveyard. If you do, "EFFECT".
Contents
Gallery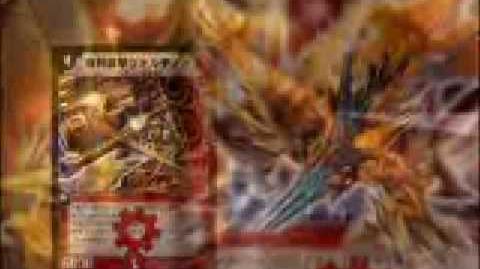 Trivia