Generate Gear is the 14th booster pack in the OCG.
Details
It introduces the Cross Gear card type and its support and anti-support, creatures and cards that cause either themselves or other creatures to lose power, and enhanced support for decks that specialize in only one civilization.
It also introduces a creature that can Win All Battles.
Shobu, Bolberg Cross Dragon and Final Dragarmor are featured on the pack's cover artwork.
Keywords
This set introduces the following keyword;
Metamorph
(If you have 7 or more cards in your mana zone, this spell/creature gets the following ​

ability.)
Saver: "RACE" (When one of your "RACE" would be destroyed, you may destroy this creature instead.)
Contents
Gallery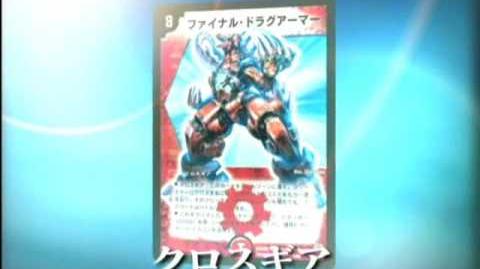 Trivia
Introduces 5 new races, one for each civilization.
Community content is available under
CC-BY-SA
unless otherwise noted.