Crystal Command Dragon is a race of Command Dragon creature in the Water Civilization.
Nomenclature
They feature 2-letters as part of their name, based on a fictional element.
They commonly feature 龍素記号 (Ryūso Kigō) meaning Dragment Symbol in their names.
Many of these Crystal Command Dragons have initials that are based on a card ability or card.
Creatures of the dragon pulse technique alignment are named after Mahjong winning hands.
Story
Crystal Command Dragons were born when the Liquid People Sen studied the Dragment Symbols. Their race name originates from the fact that their bodies are made of crystals.
In Revolution Final, they are teamed up with Team Tech.
Support
See also: Support for Command, Dragon and Command Dragon creatures
Supporting
Cards that support Crystal Command Dragons
| Support Card: | Card Effect: |
| --- | --- |
| Dragment Formation | ■ Destroy all your Liquid People. Then reveal cards from the top of your deck until you reveal the same number of non-evolution Crystal Command Dragon for each of your destroyed Liquid People. Put all revealed Crystal Command Dragons from the revealed cards into the battle zone, then shuffle your deck. |
Example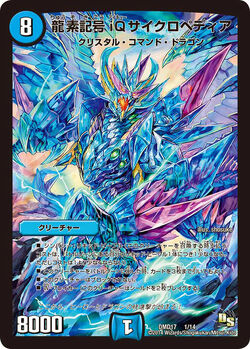 Community content is available under
CC-BY-SA
unless otherwise noted.