Children
チルドレン
Phonetic:
Chirudoren
Released In:
Promotional (Year 11)
Civilization(s):
Light / Water / Darkness / Fire / Nature
DM-Wiki:
Article
Category:
Children
Children is a race of creature that is shared between all 5 civilizations.
Gameplay
This is a race exclusive to collaboration cards from other Shounen mangas.
Support
Children don't feature any support cards or evolution creatures.
Example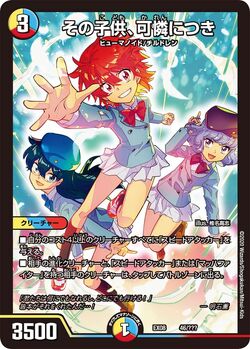 Races shared between the Civilizations
Community content is available under
CC-BY-SA
unless otherwise noted.