Children
チルドレン
Phonetic:
Chirudoren
Released In:
Promotional (Year 11)
Civilization(s):
Light / Water / Darkness / Fire / Nature
DM-Wiki:
Article
Category:
Children
Children is a race of creature that is shared between all 5 civilizations.
Gameplay
This is a race primarily exclusive to collaboration cards from other Shōnen manga.
Support
Children don't feature any support cards or evolution creatures.
Example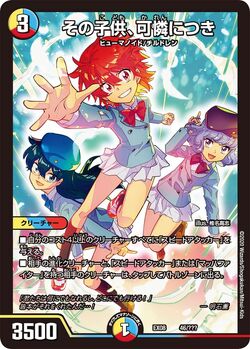 Races shared between the Civilizations