Ceremony of Zeron is a Zeron ceremony card type released in DMRP-12.
Details
It is exclusive to one card, Zerom, Origin of Destruction.
Similar to the Forbidden card types before it such as FORBIDDEN STAR ~World's Last Day~, this card starts the game in the battle zone. By fulfilling various conditions, you able to link various Zeron Nebula to it. When Zerom is linked to 4 Zeron Nebula, you may flip it over to its Zeron Creature side, Zeron.
Zerom, Origin of Destruction
Darkness / Ceremony of Zeron

---
■ At the start of the game, put 4 different Zeron Nebula into the battle zone without linking them to this card.
■ At the start of the game, your opponent draws another card.
■ Zeron cards can't leave the battle zone.
■ Zeron Birth: When you link 4 Zeron Nebula with this card, flip all 5 cards to its linked creature side.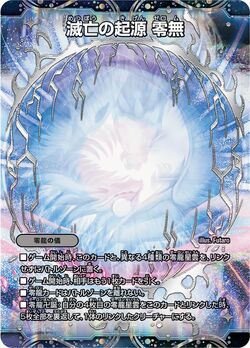 The card type is unique in that is has no mana cost, and a mana cost of only 0 on its flipped side.
Community content is available under
CC-BY-SA
unless otherwise noted.