Brave Spirit is a race of creature shared between the Darkness and Fire civilizations.
Gameplay
This race is introduced as part of the cycle of races during the Phoenix Saga. Each of these races are part of an allied multicolored combination of civilizations, with each race supporting or being supported by the other.
They each give additional effects to a Tyranno Drake creature. They are similar in effect to the interaction of Deep Marine and Grand Devil or Saint Head and Arc Seraphim.
Support
Supporting
Cards that support Brave Spirits
Supported
Cards supported by Brave Spirits
Anti-Brave Spirit Cards
Anti-Brave Spirit Cards
Creatures that evolve from Brave Spirits
Evolution Creature:
Evolves From:

Asteroid Gauss, Flame Comet

■ Vortex evolution—Put on 2 of your Tyranno Drake, Brave Spirit, and/or Armored Dragons.

Supernova Ixion Burning Rave

■ Galaxy Vortex evolution—Put on top of 3 of your creatures, whose race is Armored Dragons, Tyranno Drakes, and/or Brave Spirits.

Supernova Black Hole Thanatos

■ Galaxy Vortex evolution—Put on top of 3 of your Grand Devils, Tyranno Drakes, Deep Marines and/or Brave Spirits.
■ Goal Life Gate: Grand Devil, Tyranno Drake, Deep Marine, Brave Spirit
Example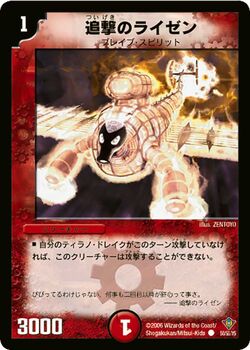 Races shared between the Civilizations
Community content is available under
CC-BY-SA
unless otherwise noted.