Brain is a Name Category of spells primarily in the Water Civilization.
Details
In the OCG, the name category was first introduced with Cyber Brain in DM-01 Base Set. In the TCG, Cyber Brain was replaced with Brain Serum in the English version of the DM-01 Base Set.
However, it didn't become a category until DMRP-06 Strike Back Galaxy 卍・Inferno・Annihilation!!.
As it only includes spells, it doesn't include creatures such as Wandering Braineater.
List of Brain cards
Spells:
 ■
Brain Cyclone
 ■
Brain Serum
 ■
Brain Storm
 ■
Brain Touch
 ■
Brain Typhoon
 ■
Brain x Brain
 ■
Cyber Brain
 ■
Eternal Brain
 ■
Eureka Charger
 ■
Extreme Brain
 ■
History Reciting Brain
 ■
Hot Spring Brain
 ■
Jester Brain
 ■
Magic Shot - Open Brain
 ■
Original Brain
 ■
Prism Brain
 ■
Quattro Brain
 ■
Triple Brain
 ■
「Destructive Red! Scrapper Red!」「Knowledgeable Blue! Brain Blue!」「Enchanting Green! Trap Queen!」「Flashy Yellow! Spark Yellow !」「Greedy Purple! Hand Purple!」「We are where the break is! Shield Sentai, Triggerger!!」
Twinpact
 ■
Gosentoras, Angry Red Beard / Brain's Alarming Steel Fangs
 ■
Mikuru, Future Faerie / Miracle Brain
 ■
Neonkus, Palace Missionary / Neo Brain
 ■
Tamategame, Palace Ship / Brain Time
 ■
卍 Gi Lugirin 卍 / Bangoku Brain
Support
Supporting
Cards that support the Brain category
Support Card:
Card Effect:

Neonkus, Palace Missionary / Neo Brain

■ When you put this creature into the battle zone or whenever you cast a spell that has Brain in its name, put the top card of your deck into your graveyard. If it's a spell, you may cast it for no cost.

---

 
Example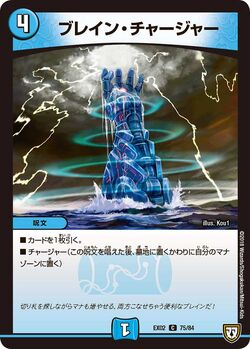 Community content is available under
CC-BY-SA
unless otherwise noted.