Bikkuri Kingdom is a race of creature in the Water and Fire civilizations.
Details
This race has an associated keyword, Vividdraw.
It also appears as a subtype on spells and is used by Chouki.
With the exception of their King Master Card, (a Phoenix), the Kingdom's residents largely consist of Mutopia.
Nomenclature
Their names are based on stage arts or performance terms. The traditional naming for low rarity creatures are [〇〇 (two Kanji) 者 ××× (Katakana) and are named after stage production terminology.
For example:
Spells are spelled out as dialogues, and are based on formerly released spells.
For example:
Support
There are currently no cards or evolution creatures that specify Bikkuri Kingdom.
Example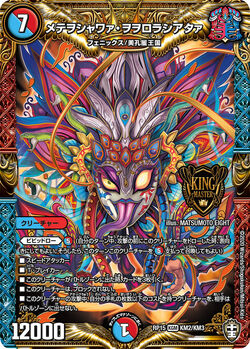 Trivia
Races shared between the Civilizations