Apollonia Dragon is a race of Dragon creature in the Light Civilization.
Nomenclature
Apollonia Dragon creatures have 光神竜 (Kō Shin Ryū) in their names, meaning "Light Divine Dragon".
Multicolored/Multirace creatures have 龍聖 (Ryū Sei), meaning "Holy Dragon".
Apollonia Dragon evolution creatures have 超神竜 (Chō Shin Ryū) in their names, meaning, "Super Divine Dragon".
Gameplay
The most well-known creature of this race is Spell Del Fin, Light Divine Dragon, which is popularly used against Psychic Creatures and decks that use many Hyperspatial spells, in order to stop them from being cast.
Support
See also: Support for Dragons
Creatures that evolve from Apollonia Dragons
Example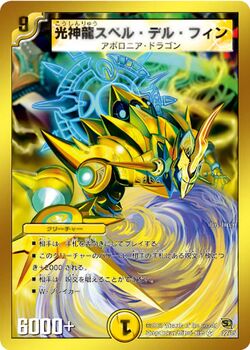 Trivia
The race is named after Apollo, the Greek God of light and the sun, truth and prophecy, healing, plague, music, poetry.
There is a race named "Holy Dragon" in Duel Masters: Birth of the Super Dragon which is possibly a prototype of this race. However, the suffix for this race is 聖神龍 (Sei Shin Ryū) meaning "Holy Divine Dragon" instead of 光神龍 (Kō Shin Ryū).
Monocolored Dragon races
Armored Dragon ● Apollonia Dragon ● Earth Dragon
Poseidia Dragon ● Volcano Dragon ● Zombie Dragon
Multicolored-exclusive Dragon Races
Elder Dragon ● World Dragon
Revolution Final Dragon races

Angel Dragon ● Crystal Dragon ● Demon Dragon
Mega Dragon ● Jurassic Dragon
Outrage Dragon
Duel Masters (DMRP Block) Dragon races

Dragon Guild ● Jokers Dragon ● Master Dragon
Gacharange Series Dragon races


Dragon Code ● Dragons Zero
Master Dragon Z
Ten Kings Dragon races


Giant Dragon ● Hero Dragon ● Dynamite Dragon
Nitro Dragon ● Shinobi Dragon ● Dreammate Dragon
Berserker Dragon ● Mecha Del Sol Dragon ● Spirit Quartz Dragon
DMEX-13 Dragon races
Splash Queen Dragon ● Human Dragon ● Funky Knightmare Dragon
Sonic Command Dragon ● Snow Faerie Dragon ● Oracle Dragon ● Draguner Dragon
Infinite Dragon ● Infinite Master Dragon ● Zero Dragon
Community content is available under
CC-BY-SA
unless otherwise noted.