Angel Command Dragon is a race of Command Dragon creature in the Light Civilization.
Nomenclature
As Angel Commands featured 精霊 (Seirei, Elemental) in their names, this race features 精霊龍 (Seirei Ryū, Elemental Dragon) instead.
Support
Angel Command Dragons are affected by all cards that affect Angel Commands, but currently there are no cards or evolution creatures that specify Angel Command Dragons.
See also: Support for Command, Dragon and Command Dragon creatures
Example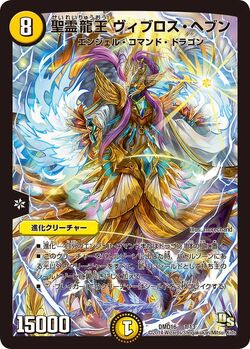 Community content is available under
CC-BY-SA
unless otherwise noted.